Every nation is an heir of a vast treasury of ideas and labor to which the living and the dead of all nations have contributed.
~ Martin Luther King, Jr. ~
QUOTATIONS BY
CATEGORY
AUTHOR
CANON
TRADITION
... You can live by the words in this book ...
- Thomas Moore
Reference
11,600 quotations from 5000 years of spiritual heritage by 2,200 authors in 220 categories focusing on the inner life, on personal development and self-actualization. With extensive biographical index.
Therapy
Field guide to mind states cross-indexed to help identify subjective realities: Related states, Syntonic support elements and Dystonic contraindications.
Meditation
Random browsing and contemplation of selections.
Oracle
Consult daily or as often as needed for answers to vexing questions.
Wisdom Circle
Random selection of a quotation from the collection by each member of a workshop or focus group could become a means of introduction, an ice-breaker, as that member shares with the rest of the group what that quotation means to her or him, and how it relates to them personally.
The lips of the wise are as the doors of a cabinet; no sooner are they opened, but the treasures are poured before you. Like unto trees of gold arranged in beds of silver, are wise sentences uttered in due season.
~ Khemetic Wisdom ~
Have you ever observed that we pay much more attention to a wise passage when it is quoted than when we read it in the original author?
~ Philip G. Hamerton ~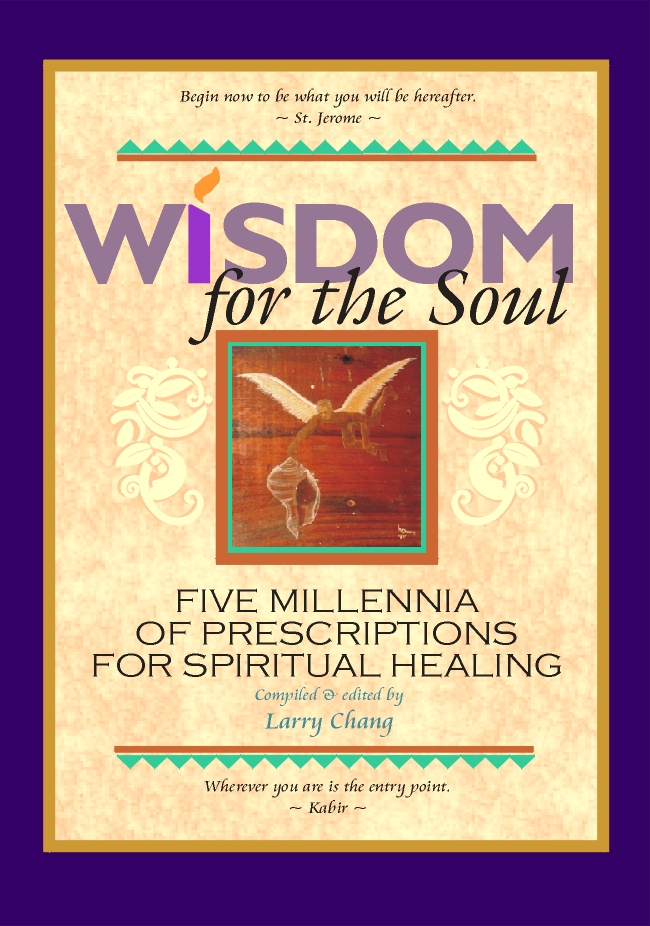 Wisdom for the Soul: Five Millennia of Prescriptions for Spiritual Healing
WINNER - NON-FICTION ANTHOLOGIES
USABookNews BEST BOOKS 2006 AWARDS
" ... a very solid effort and surely one of the most comprehensive of its genre ever written."
- Writer's Digest
More ...

Anthology of 11,600 quotations on 220 subjects from Ability to Zeal by 2200 authors from Akhenaton to RuPaul
824 pages, hard cover, full index
EAN 978-0-9773391-0-5 ISBN 0-9773391-0-6
49.95