QUOTATIONS
The words that enlighten the soul are more precious than jewels.
~ Hazrat Khan ~
Better than a thousand sayings composed of meaningless statements is a single meaningful statement on hearing which one becomes calm.
~ Buddha ~

Published by


GNOSOPHIA
PUBLISHERS

eBook
PDF edition NOW AVAILABLE
for download

Larry offers
INTUITIVE READINGS
and
LIFE COUNSELLING
by appointment
202 545 0869

The ultimate value of life depends upon awareness, and the power of contemplation rather than upon mere survival.
~ Aristotle ~
Man's task is to become conscious of the contents that press upwards from the unconscious ... As far as we can discern, the sole purpose of human existence is to kindle a light in the darkness of mere being.
~ Carl Jung ~
I suspect that we are all recipients of cosmic love notes. Messages, omens, voices, cries, revelations, and appeals are homogenized into each day's events. If only we knew how to listen, to read the signs.
~ Sam Keen ~
Consciousness is not a strictly linear system, but one in which circular causality obtains. Attention shapes the self, and is in turn shaped by it. ~ Mihaly Csikszentmihalyi ~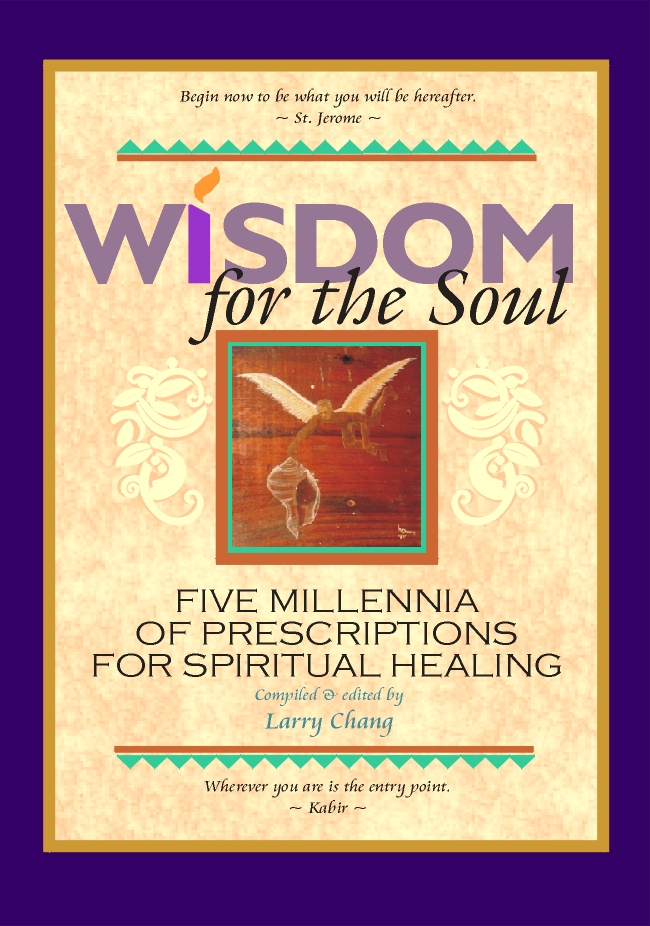 Book/Cards
The easiest and most obvious method:
We couldn't have said it better than this:
Open it at random and, having found something that interests you, close the book and meditate.
~ Prince Charles-Joseph de Ligne ~
---
Reference
Book
Look up mind-states by subject or by source in the extensive biographical index.
We are what we think. All that we are arises with our thoughts. With our thoughts, we make the world.
~ Buddha ~
---
Therapy
Book
Read subject entries until one or more resonate with you, remaining quiet and receptive to allow the wisdom to penetrate your inner being. If nothing quite fits, follow the cross-references at the beginning of each section to Related states, Syntonic support elements and Dystonic contraindications. Something will be sure to click decisively.
There are times in our lives when we feel there is no way up or out ... It is exactly in these times that you must turn to the infinite power within yourself. You must know that the answer is exactly where you are. The strength you need, the answer you want, the solution that will turn the situation around is you.
~ Iyanla Vanzant ~
---
Daily Meditation
Book
Choose a theme a week and contemplate those selections each day. It will take 4+ years to complete the volume as there are 220 sections.
The first thing each morning, and the last thing each night, suggest to yourself specific ideas that you wish to embody in your character and personality. Address such suggestions to yourself, silently or aloud, until they are deeply impressed upon your mind.
~ Grenville Kleiser ~
---
Oracle
Book/Cards
Consult daily or as often as needed for answers to vexing questions.
Every man's condition is a solution in hieroglyph to those inquiries he would put. He acts it as life before he apprehends it as truth.
~ Ralph Waldo Emerson~
---
Wisdom Circle
Book/Cards Random selection of a quotation from the collection by each member of a workshop or focus group could become a means of introduction, an ice-breaker, as that member shares with the rest of the group what that quotation means to her or him, and how it relates to them personally.
One may need to retire from action in order to receive guidance from a higher source ... When one is in harmony with the source of all nourishment, even great and difficult tasks can be undertaken, and all will benefit.
~ Yi Jing ~
---
You may develop your own methods. Share them with us by writing admin@wisdomforthesoul.org . What follows is the Wisdom Card method developed by Larry for giving intuitive readings. You can do readings for yourself or others if you have cards. Any of the decks will do, since it requires only 11 cards, but you will have a more precise reading drawing from the 220 possibilities with geometrically more probabilities afforded by The Treasury. For comparison, the Tarot deck has only 78 cards.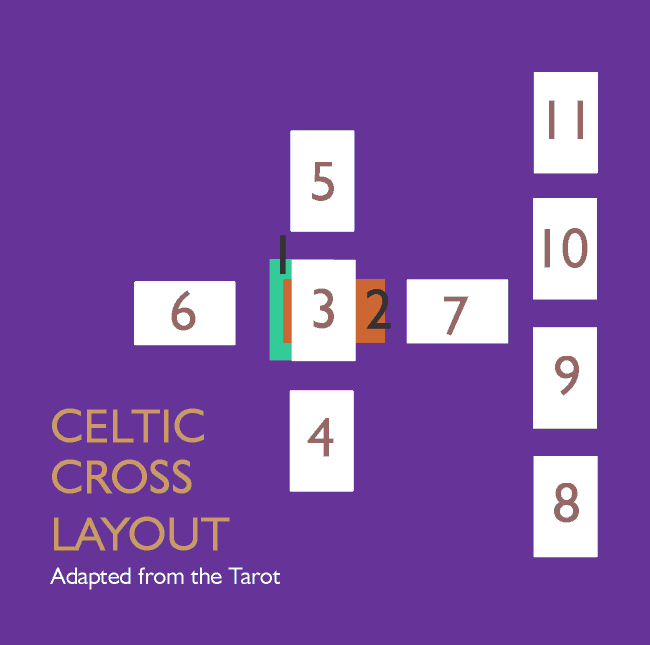 1 - Represents the Querent in the present matter
2 - Crosses the Querent, signifying blockages or challenges
3 - Crowns the Querent, indicative of present state of mind, attitude
4 - Beneath: the Querent's ground or foundation, also the subconscious or unconscious mind
5 - Above: Querent's mind set or world view, conscious mind, projections, expectations
6 - Behind: Past experience impinging on current situation
7 - Before: Possibility or probability
8 - Elements of current situation, skills or resources available
9 - Influences or environment
10 - Course of action
11 - Outcome

The blank card is a wild card like the Joker. It represents the tabula rasa of classical philosophy, signifying an undeveloped state. It is potentially the most powerful card in the deck as it may signify the Creative Void, out of which all things are manifest. It may also be interpreted as Sunyata, emptiness, the true nature of existence.
---
To receive our updates

Enhanced awareness promotes in all of us the traits that abound in the creative person: Whole seeing. Fresh childlike perceptions. Playfulness, a sense of flow. Risk-taking. The ability to focus attention in a relaxed way, to become lost in the object of contemplation. The ability to deal with many complex ideas at the same time. Willingness to diverge from the prevailing view. Access to preconscious material. Seeing what is there rather than what is expected or conditioned.
~ Marilyn Ferguson ~
If you enter a lower state or even a defiled state with clear awareness, then that state will transform into its corresponding wisdom. So if you enter passion with awareness, you will find compassion. If you enter anger with awareness, you will find clarity.
~ Ken Wilber ~
To awaken is not to hold the idea of awakening. You can't practice waking up. And you can't fake it or imitate it. You have to actually want to wake up. You're the one you can count on. You're not other-dependent. Everything you need is here now. Just rely on thus – immediate direct experience. You're the final authority. Whether you awaken or not is completely up to you.
~ Steve Hagen ~
Background courtesy of GRSites
WISDOM TO GO

CONTACT
Webmaster
If you are distressed by anything external, the pain is not due to the thing itself, but to your own estimate of it; and this you have the power to revoke at any moment.
~ Marcus Aurelius ~

That which we call destiny goes forth from within people, not from without into them.
~ Rainer Maria Rilke ~

The greatest discovery of my generation is that human beings, by changing the inner attitudes of their minds, can change the outer aspects of their lives.
~ William James ~

We are the only creatures on earth who can change our biology by what we think and feel.
~ Deepak Chopra ~
No matter how full a reservoir of maxims one may possess, and no matter how good one's sentiments may be, if one has not taken the opportunity to act, one's character may remain entirely unaffected for the better.
~ William James ~
The teachings of elegant sayings
Should be collected when one can.
For the supreme gift of words of wisdom,
Any price will be paid.
~ Nagarjuna ~
Your support enables this work to continue.

Namasté