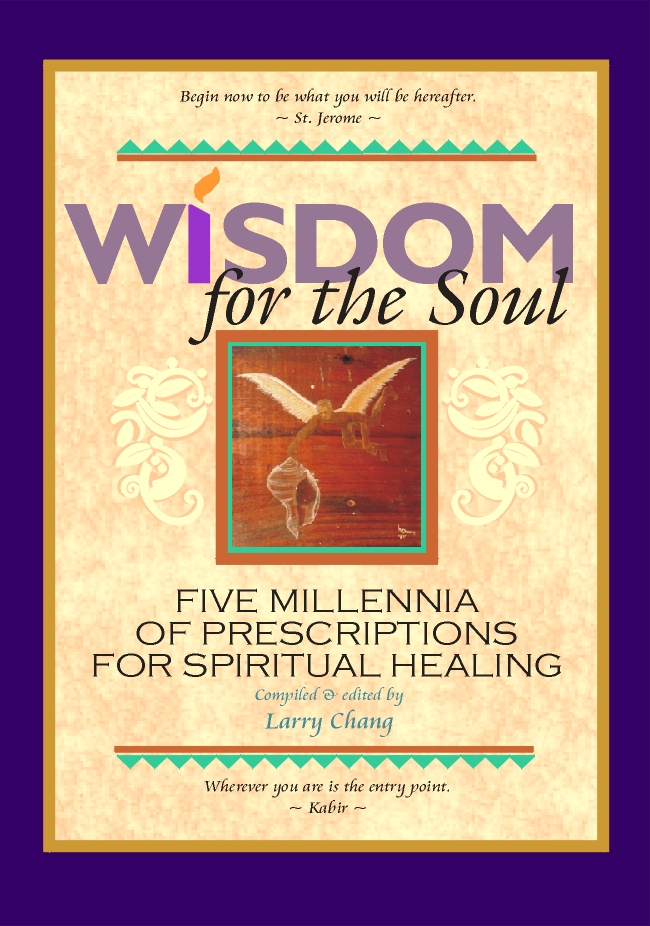 Wisdom for the Soul: Five Millennia of Prescriptions for Spiritual Healing
There's a fresh take on an old standby, the book of quotations. The difference with Wisdom for the Soul is in the selection and organization of the quotations. Each has been chosen for its universal application and poetic quality, grouped into one of 220 themes. While the usual subjects are represented, the collection encompasses newer psychological territory such as Actualization, Avoidance/Denial, Chaos/Uncertainty, Polarity, Synergy, Unconscious, and more.
Although the primary aim of the collection is self-help for the individual, with extensive cross-references to factors that foster or deter growth and well-being, the material will appeal to the quotation collector, speech-writer, and the general reader.
ISBN 0977339106
EAN 9780977339105
LCCN: 2005933148
BISAC Categories:
- Reference | Quotations
- Body, Mind & Spirit | Inspiration & Personal Growth
- Self-Help | Personal Growth | General
824 pages, 7 x 10, hard cover, $49.95
Winner - Non-Fiction Anthologies
Best Books 2006 Awards
A number of independent bookstores in the DC area, Gnosophia's home base, are stocking this title, available to the trade from Baker & Taylor, Ingram, and New Leaf Distributors. Online orders may be placed here.
"Painstakingly compiled, accessibly organized, and expertly edited ... A welcome reference for personal, seminary, academic, and community library 'Religion, Spirituality, and Metaphysical Studies' collections, Wisdom for the Soul is very strongly recommended for readers searching for encouraging and empathetic words of wisdom for the conduct and improvement of their lives."
- Midwest Book Review
"A must-have title for all spiritual seekers. This volume is incredible in scope, superbly edited and beautifully designed. Highly recommended."
- USABookNews.com
"The book's excellent liner notes on the back cover do much to draw the reader in, promising thoughtful advice and direction on nearly every subject one could imagine. The detailed Table of Contents, in this case labeled 'Table of Subjects' is well composed and thus quite useful in a book of this length. Likewise the index, which allows readers to search the lengthy text for a particular author. Much of the chosen material is unfamiliar (at least to this reader), and thus a fresh read in what is a terribly crowded field. Overall, this is a very solid effort and surely one of the most comprehensive of its genre ever written."
- Writer's Digest
Page modified

All of us encounter, at least once in our life, some individual who utters words that make us think forever. There are men whose phrases are oracles; who can condense in one sentence the secrets of life; who blurt out an aphorism that forms a character, or illustrates an existence.
~ Benjamin Disraeli ~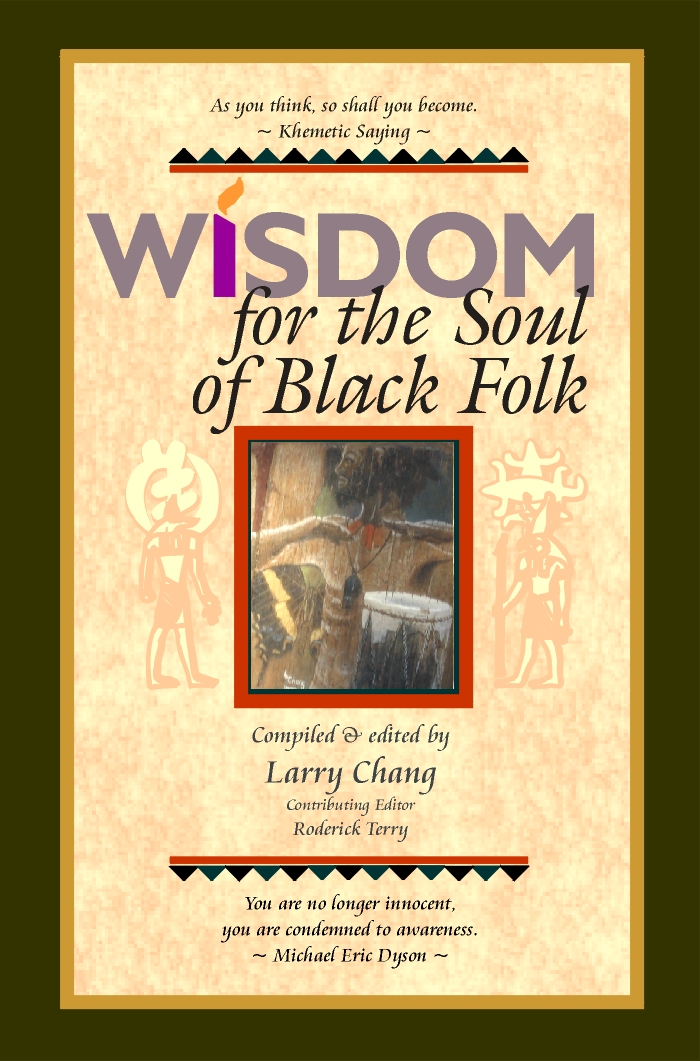 Front Matter

Subjects

Extract

Index

Editors

Acrobat Reader required
Wisdom for the Soul of Black Folk
ISBN 9780977339150
LCCN: 2007905212
BISAC Categories:
- Reference | Quotations
- Body, Mind & Spirit | Inspiration & Personal Growth
- Self-Help | Personal Growth | General
- Social Science | Ethnic Studies | African American Studies - General
376 pages, 6 x 9, trade paperback, $19.95
From the wisdom of Khemetic sages and pharoahs, slave narratives, the literature of resistance and protest, the self-assertion of Marcus Garvey, through to the reggae philosophy of Bob Marley and New Age spirituality, the contribution of Black thinkers, writers and artists to world culture has been as life-affirming and phenomenal as it is unknown. This anthology brings to light much that is timeless, profound and inspirational, universally applicable to the human condition.
Order here.
Available to the trade from Baker & Taylor, Ingram Book Company and New Leaf Distributors.
"We are truly blessed to have access to this treasury of voices speaking so eloquently of ancient wisdom and contemporary understanding. The ancestors must be extremely gratified to behold the assemblage of truth-seekers and teachers who have shared their insights with us."
- Malidoma Somé
Author of Of Water and the Spirit and The Healing Wisdom of Africa
PLANNED

Wisdom for the Soul of Queer Folk
ISBN 9780977339167

Wisdom for the Soul of Young Folk ISBN 9780977339174

It isn't until you come to a spiritual understanding of who you are - not necessarily a religious feeling, but deep down, the spirit within - that you can begin to take control.
~ Oprah Winfrey ~